Product
Introduction of main products

Marushige brown rice black vinegar
Blessed with natural energy, black vinegar is carefully aged in earthenware jars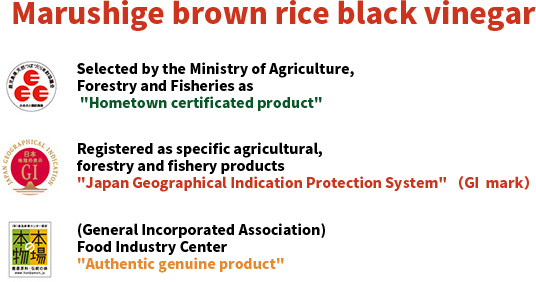 ■ Imperial inspection vinegar
When the Kagoshima National Athletic Meet (Solar National Athletic Meet) was held with the presence of Their Majesties the Emperor and Empress, Marushige brown rice black vinegar was exhibited as the 12th selection to Imperial for imperial inspection.
Acquired GI (Geographical Indication Protection System) mark ・ Authentic genuine mark・ Hometown certification mark.
"Open-air brewing in traditional earthenware jars" has been continued for more than 200 years in Fukuyama-cho, Kagoshima.
A rare brewing method in which three stages of fermentation occur in one earthenware jar.
Domestically produced raw materials used only.
A well-balanced combination of 17 types of amino acids, including essential amino acids.
Aged slowly for one year to one year and a half or more.
After being transferred to a large jar for secondary aging, the taste is rich and mellow.
Product Features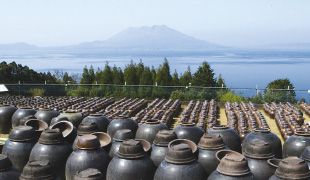 An extremely rare manufacturing method in which three stages of fermentation occur sequentially in one jar.
With the blessed climate and natural features of Fukuyam-cho, Kagoshima and geothermal heat of Kirishima volcanic belt, "Marushige brown rice black vinegar" has been through "extremely rare three-step fermentation process" sequentially in the "earthenware jars", which includes saccharification, alcoholic fermentation and acetic acid fermentation, and is born after the secondary aging slowly in the large jar.
In addition to 17 kinds of amino acids, it also contains organic acids such as acetic acid, giving it a rich and delicious flavor.
New Marushige Genki Vinegar

Approved by the Consumer Affairs Agency
Food for specified health uses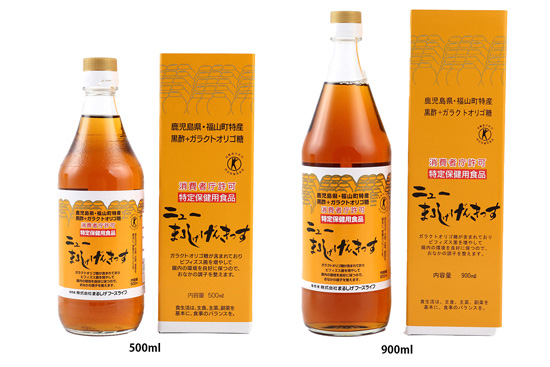 This product contains galactooligosaccharides and increases bifidobacteria it can keep the intestinal environment in good condition and has the function of regulating the intestines and stomach.
100% brown rice black vinegar from Fukuyama-cho, Kagoshima is used.
Safe and secure without additives.
Fermentation is carried out twice with the utilization of our original brewing method, which endows a refreshing and mellow taste.
Product Features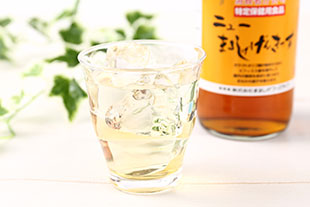 Maintaining a good intestinal environment is the key to health.
New Marushige genki vinegar increases "Bifidobacterium" to an appropriate extent.
In the intestines, beneficial bacteria such as Bifidobacterium and lactic acid bacteria compete with harmful bacteria that adversely affect the body. Bifidobacterium is a bacterium that originally inhabits the intestines, which however can be cultivated and increased by "galactooligosaccharides". Galactooligosaccharide, which are strong against acid, can reach the large intestine without being digested by enzymes in the body. The beneficial bacteria in the intestines nourish the bifidobacterial and increase the number of it appropriately, which can keep intestines and stomach in good condition.
In order to enable people who don't like the taste of black vinegar to drink with enjoyment, domestic plum juice and honey are added to Marushige brown rice black vinegar and it goes through fermentation twice utilizing our original brewing method, so there is no need to worry about stomach upset even drinking it every day. This product is also characterized by repeat customers.